What to expect?
Our guest instructors will be taking you through their unique perspectives on The Cognitive Kali Method.
Connecting movement and exercise to brain health

Modifying the ancient art of Kali to be accessible

Making martial arts fun and engaging for all!
Instructor(s)
Learn more about your instructors here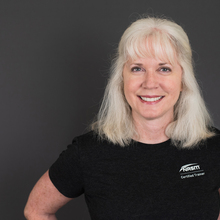 Guest Instructor

Diane Simmons
Diane is a functional fitness and well-being instructor at Paradigm Development Center, which is a school for youth with learning differences in Houston, Texas. Diane's primary work is with students on the Autism Spectrum, she began training in the Cognitive Kali method at the beginning of 2022 and now specializes in physio-cognitive activities using Kali to teach coordination, memory, self-confidence, and proprioception. Diane also teaches balance and fall prevention to seniors 50 years and better.
Guest Instructor

Randy Brilz
My background is in dentistry where I specialized in periodontics. With a post-graduate certificate in pain management from the University of Alberta, I am continuing my studies in pain science through Pain BC. My martial arts journey began at the age of 14 when my mother, enrolled all her three sons in the one and only karate school in our hometown. I received my black belt in the Shotokan style of Karate while at university and then later I received my black belt in Shito Ryu style of Karate under the guidance of Fumio Demura. At the age of 62, I started on the path to learning Pekiti Tirsia Kali(PTK). I have been training PTK for the last 4 ½ years. During the COVID isolationt I started training in Systema from Vladimir Vasiliev in Toronto and in July 2020 I began my training in Cognitive Kali, under the founder and head instructor, Guro Paul McCarthy. I am excited about teaching Cognitive Kali. At its heart is a movement-based activity that blends our current knowledge in the neurosciences with the science of physical activity through the use of an ancient martial art known as Kali.